Our Mission
We began Mother-in-Law's with a mission to share a delicious, authentic, handcrafted small batch kimchi using the finest natural ingredients. As an avid food and wine lover, founder, Lauryn Chun was inspired by the beauty of Korea's handcrafted tradition of kimchi as a cherished food that belongs in the ranks of fine fermented foods like wine, cheese and beer traditions.

Our first kimchi launched in 2009 with original "House," based on a loved family recipe from her mother's family restaurant Mother-in-Law's House (Jang Mo Jip) founded in 1989 in Garden Grove, California. It is still our best seller!

In 2012, Lauryn authored The Kimchi Cookbook: 60 Modern and Traditional Ways to Make and Cook Kimchi to share the history of kimchi making tradition with modern recipes and share its versatility to more home cooks.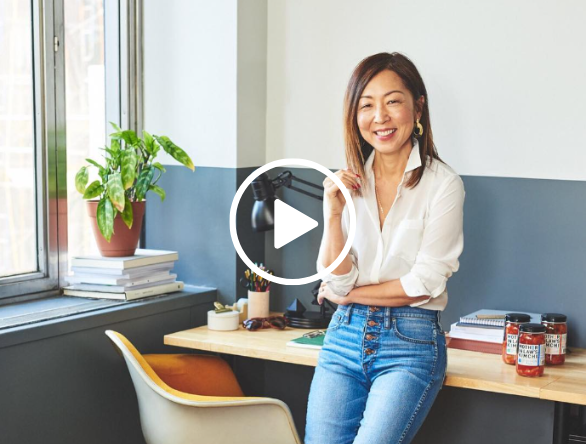 Our Flavors
Mother-in-Law's Gochujang launched in 2014, the most popular fermented chile paste and sauce that captures authentic flavors of the Korean pantry. The unique taste of gochujang's flavor profile comes from fermentation that brings out the taste of umami and moderate heat from the chile spice. Ours is loved by many because it contains clean ingredients with no msg or corn syrup.

No pantry is complete without Gochugaru, Korean chile flakes that add a depth of earthy, warm flavors with medium heat and can be used in every day dishes, not just for kimchi making. As a symbol of quality, Mother-in-Law's gochugaru flakes do not contain seeds so that the full fruity flavor of the chile flesh shines through. ​
WHAT MAKES OUR KIMCHI DIFFERENT?
We uphold the kimchi making tradition using an authentically handcrafted process from selecting the finest chile pepper, flakes to hand cutting strips of napa cabbage and cubes of daikon radishes. We the mix in small batches and hand pack into glass jars. Unlike machine chopping, blades slicing in strips and mixing in large vats which can bruise delicate vegetables, our distinct handcrafted process from start to finish cuts vegetables into long strips and chunks ensuring a more balanced fermentation and deeper flavors that develop slowly. It's what Koreans call "son-mat" meaning "hand taste" which describes the labor of love that comes from making food with your hands.


What's in a name?
Korea's culinary tradition have an important relationship with the mother-in-law. When a bride married into her husband's family, it was customary for the bride to learn the new family's kimchi making recipes. As one of the most revered culinary skills in any Korean household, traditionally, it was customary for the bride to learn the kimchi recipe from the mother-in-law.